Gascoyne Paracord Collar
Open your door to the world of adventure. 🏕️
Our 'River' Paracord Series Collars are made from vegan materials only - Paracord and a Biothane adapter. This sturdy collar comes in different colour variations to ensure that it will pop in contrast to your dogs coat!
Features:
🌿 Easy to clean
🌿 Water resistant (please choose stainless steel hardware for waterproof)
🌿 Size adjustable 
🌿 ADVENTURE READY!
All our of our high quality canine products are handmade in Western Australia by us.
Welcome to the Native Collar Family. 🐺
Not the right size? Please kindly send us a message at nativecollars@gmail.com.
After a Custom Colour Combination?
*Products may slightly vary as every piece is individually handmade.
HOW TO MEASURE
 HARDWARE CHOICES

Antique Brass or Stainless Steel (silver & waterproof)
ABOUT THE MATERIALS
BioThane is a polyester webbing with coating that makes it more durable, waterproof, easy to clean and weldable. 
Parachute cord (also Paracord) is a lightweight nylon kern-mantled rope originally used in the military. The braided sheath is usually made up of 32 interwoven strands, giving it a smooth texture.
Customer Reviews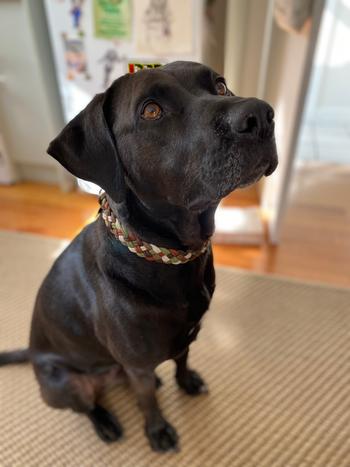 05/19/2022
Great collar!
Love this collar. It's well-made and looks great on my dog. He loves swimming so it was great to have the option of the stainless steel buckle as well.
Jo

Australia
12/16/2021
Beautiful
Beautiful and well made made collar, the colors suit my chocolate labradoodle so well! Love!
Jennifer L.

Australia
08/04/2021
Gorgeous
It looks great, it feels great. It's even custom made to fit Moose's neck. So happy with this collar!
Rhiannon B.

Australia
04/03/2022
Fantastic
Amazing customer service and beautiful quality product. I am so happy with my experience with Native Collars.
Ceri H.

Australia
03/26/2022
Amazing!
Fits my boy like a charm! Super happy with how it's turned out! It was originally going to be his everyday collar but it's just too nice to wear it everyday as I don't want to ruin it or get it dirty so it's his "special occasions" collar. His little sister Nova got the "costal" one. She recently got desexed and everyone was asking where her collar is from because they all loved it!
Anonymous

Australia