Long Line - BioThane®
Long BioThane
® lines are here!
You can choose from all of our available colours.
At Native Collars we use original Biothane®. Biothane® is a leather-like material and is soft like leather and very comfortable to hold. It is also easy to clean, waterproof and stink proof.
A necessity for every dog owner!
Our BioThane Long Line is the perfect line to give your dog freedom on walks without being off lead. It gives your dog the chance to run and sniff freely without the worry of losing control or disregarding leash laws. A long BioThane line can help you train getting a reliable recall with your dog and working on prey drive.
This long line is soft and flexible and water resistant, perfect for training and walks in any weather condition. Due to the soft leather-like feel of BioThane, the long line is comfortable and provides exceptional grip.
The Native Collars BioThane long line comes in various lengths -3 meter, 4 meter, 5 meter and 6 meter. If you prefer a different length, please don't hesitate to reach out and we will provide you with a custom quote.
BioThane Long Line Features:
water proof - BioThane Long Line is perfect for wet conditions
lightweight
easy to clean
able to hold up in any terrain.
soft and flexible
looks and feels like leather providing exceptional grip and strength
Features a heavy-duty hardware and will hold up to dogs that pull
Available Long Line lengths:
3m up to 10m
please reach out for a custom length if required!
COLOUR CHOICES
HARDWARE CHOICES
Customer Reviews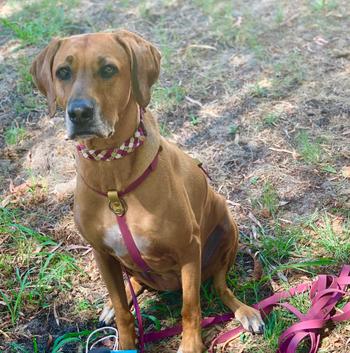 02/27/2022
Gorgeous
I am a huge fan and love using long lines. I have used cotton webbed ones for years then decided to try Native Collars custom made Biothane long leads and WOW! Smooth at touch, easy to handle, light and just amazing quality. I paired with a paracord collar and custom made harness as a special fashion touch for my special girl…I'm impressed! Best purchase ever. I'll definitely order more leads from them. Keep up the good work!
Alice

Australia
04/09/2022
Great leash
This is a fantastic leash, love the colour. The attachment clip is strong and secure.
Piaf R.

Australia
04/07/2022
Love our new longline
Perfect length for our little puppy to have some independence whilst allowing us to feel secure. Great quality and beautiful design
Evie K.

Australia
03/21/2022
Excellent - custom length!
The NC team were very helpful responding to my query about a custom length biothane lead. Although pricey, these leads are brilliant. They fit in your hand well, are lightweight so dont drag our puppy down and best of all, waterproof!!
Rhiannon G.

Australia
02/20/2022
Great long line
Got a 4m long line. Very good quality, doesn't tangle.
Nikolett

Australia