BioThane Dog Harness
Custom Dog harness made from BioThane
Are you training your dog to walk nicely on your side? Do you want to give your pup the freedom it deserves while keeping them safe at all times?
A dog harness is one of the essential items that every dog owner needs. Our Native Collars dog harness will be the perfect companion for your everyday walk at the park or your outdoor adventure. The NC Dog Harness gives you full control and can assist you to teach your dog not to pull on the leash. It comes with four leash attachment points:
The back attachments
The chest attachments
Handmade in Australia
Our new dog harness was designed and is hand crafted in Australia by us. You can personalise your harness by choosing your two favourite colours and your preferred hardware colour. It is one of the most unique harnesses on the Australian bespoke market.
🌿 Two colours 
🌿 Different hardware to choose from
🌿You do not need to slide it over your dogs head, the front fully opens
🌿 Soft
🌿 Adjustable
🌿 Four attachment points: Back and front
🌿 H-Form
🌿 Easy to clean
🌿 ADVENTURE READY!
Want to have a matching lead for your new dog harness? Find all leads here.
Still love the idea of your dog wearing a collar during your walk?
Hey - we get it, it simply looks too cute and fashionable not to! Find our Paracord Collars here and our BioThane Collar options here.

Don't just take our word for it! Check out our reviews here.
HOW TO MEASURE

It is important to get the measurements right to assure a perfect fit. In the chart below you can find which measurements are required. Please let us know if your dog is a puppy and still growing!
Please note : We do not recommend this harness for small breeds. Please contact us if you have any questions.
COLOUR CHOICES


ABOUT THE MATERIALS

Our cute two tone dog harness is made from BioThane®. BioThane® is soft, comfortable and a leather-like material. It is also easy to clean, waterproof and stink proof! It is durable and made for the years to come.
Photos by _wanderingphoenix_
Customer Reviews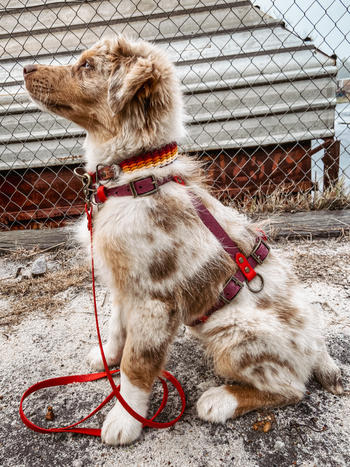 08/17/2022
PERFECT
Purchased this as part of a set and it's absolutely stunning. Perfect quality and really easy to clean and maintain. Looks stunning in burgundy and red with the brass hardware. Definitely going to order more
Phoenix

Australia
06/25/2022
Beautiful - looks, quality, comfort
My one-year-old Koolie is very fussy with harnesses and still learning to walk without pulling. I went ahead and ordered one of these harnesses and it's a winner! She seems very comfortable in it and walks nicely while wearing it. I use the back D-ring. It's excellent quality and looks gorgeous, matching her limited-slip collar. I definitely recommend it! (I also recommend you check your measurements a hundred times - I measured poorly and got the chest strap a little too short and had to send it back to be altered, which was done promptly and without any issue.)
Marin R.

Australia
10/21/2021
Amazing product!
Absolutely amazing quality product as usual, I bought my dog a biothane collar and after seeing the quality of that I bought a full set of items for my brother's dog! I just love all the colours you can choose from as well
Anonymous

Australia
10/02/2021
Biothane harnesses
These are great! Well made, well fitting and easy to adjust - I LOVE the collars too. Shinto's matches her parachord collar
Diana R.

Australia
09/15/2021
Sunny yellow….
Great harness for our mini sausage! Good efficient service. Good quality product.
Anonymous

Australia