The four Elements Collection
Water. Earth. Fire. Air.
Welcome to the new Elements Collection.
The ancients believed that the World was composed of 4 elements – Water, Earth, Fire, Air. These were considered the critical energy forces that sustained life and consciousness both within, and outside us all.

This sturdy collar comes in four different colour variations so you can match your dog's (or your own) personality with their element.
💦 Water - healing peaceful & trusting
🍃 Earth - grounded & calm
🔥 Fire - courages, strong & adventurous
🌪️ Air - communicative & lover of freedom
Not the right size? Please kindly send us a message here or reach out to us through our social media.
Features:
🌿 Size adjustable - we will use your dog's neck measurement as the midpoint unless specified otherwise. Please let us know if your dog is a pup and still growing.
🌿 Width: 3 cm
🌿 Easy to clean
🌿 ADVENTURE READY!
Welcome to the Native Collar Family. 🐺
HOW TO MEASURE

HARDWARE CHOICES
ABOUT THE MATERIALS
BioThane is a polyester webbing with coating that makes it more durable, waterproof, easy to clean and weldable. BioThane will be used for the adapter at the end of the collar.
Parachute cord (also paracord) is a lightweight nylon kern-mantled rope originally used in the military. The braided sheath is usually made up of 32 interwoven strands, giving it a smooth texture.
Customer Reviews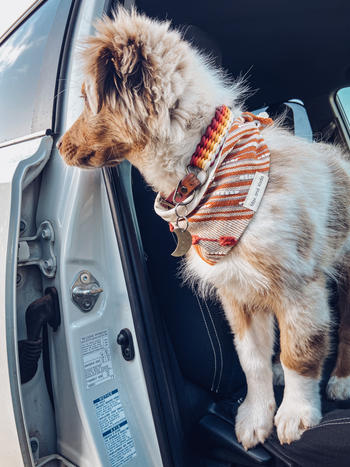 08/17/2022
So many compliments
Purchased this as part of a set and it's absolutely stunning. Perfect quality and really easy to clean and maintain. The colours are so vibrant and stunning, we get compliments everywhere we go
Phoenix

Australia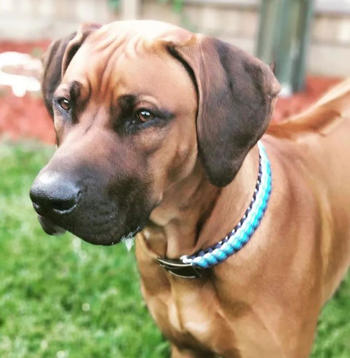 05/05/2022
Great Quality
The collar is great quality and fits our large puppy very well. The colour choices are great. We get many comments from other dog owners at the park about the collar. Thank you for the great service.
Anonymous

Australia
12/13/2021
Beautiful Product
I have been eagerly awaiting the time our pup had grown enough to buy a quality, long term collar and our Native Collar definitely did not disappoint! Quality product, fits perfectly, fast delivery with the lovely touch of the handwritten note. Our Otis looks stunning in his new four elements collar. Thank you Native Collars!
Emma-Louise B.

Australia
09/12/2021
Four Elements Dog Collar. Fire
Absolutely love this collar on my new 4 legged family member Groodle Maisey. Have already received compliments and passed on Native Collars as the maker. Thank you for excellent quality and such intense colour combination
Janifer L.

Australia
02/21/2022
Love, love, love❤
Our dogs can wear out their collars pretty quickly if they aren't high quality. These are PERFECT for them, quality is amazing, they are durable and beautifully done!
Ashley C.

Australia