Pilbara Nightfall Paracord Collar
To celebrate one of the most magnificent native animals off this land we added two new Collar editions - Pilbara Sunrise & Pilbara Nightfall. 
IT IS TIME TO DO SOMETHING THAT REALLY COUNTS FOR THE SECOND TIME AROUND.
Our Pilbara Collars are back to help native Dingos in Australia - $5 will be donated from each order that includes one of our popular limited edition Pilbara Collars.
How it all began:
A few weeks before christmas 2020 Julka and I sat together and we were discussing what type of Christmas range we could bring to you as everyone around us was already preparing for Christmas season. We discussed colours for collars, looked on our suppliers websites to find the prettiest and cutest patterns for bandanas but then... ⁠⠀
⁠⠀
...we stopped and thought - Christmas should be a time of love, consideration, appreciation, respect, helping others and giving back. And we decided to help out a small rescue in Western Australia together with your help.⁠ We donated $5 from every order in December to Dingos in need. ⁠⠀
⁠⠀
Dingos are known as the wild dog of Australia (even though they are not a dog breed) but they are also the target of wide-scale persecution. This Christmas we want to help the people that help one of our most fascinating native animals. 🧡⁠⠀
Open your door to the world of adventure. 🏕️
Our 'River' Paracord Series Collars are made from vegan materials only - Paracord and a Biothane adapter.
This sturdy collar comes in different colour variations to ensure that it will pop in contrast to your dogs coat!
Features:
🌿 Easy to clean
🌿 Water Resistant
🌿 Size adjustable 
🌿 ADVENTURE READY!
All our of our high quality canine products are handmade in Western Australia by us.
More about the materials:

BioThane is a polyester webbing with coating that makes it more durable, waterproof, easy to clean and weldable. 
Parachute cord (also paracord) is a lightweight nylon kern-mantled rope originally used in the military. The braided sheath is usually made up of 32 interwoven strands, giving it a smooth texture.
Welcome to the Native Collar Family. 🐺
Not the right size? Please kindly send us a message at nativecollars@gmail.com.
After a Custom Colour Combination?
*Products may slightly vary as every piece is individually handmade.
Customer Reviews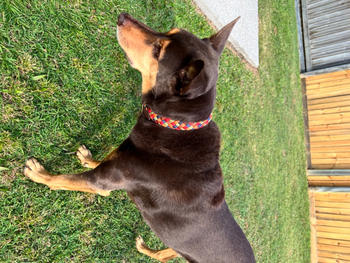 06/29/2022
Rowdy loves his Collar!!!
Exactly what I have been looking for! There's nothing like these collars in the shops! This would have to be the best collar that we have ever purchased for Rowdy! The quality is outstanding and the colours suit his coat perfectly! He's a red and tan kelpie! We will definitely be recommending Native Collars!
Elizabeth H.

Australia
01/07/2021
You get what you came here for!
I bought 2 different size collars, and both fit perfectly on my dogs. The colours, materials, quality, are exactly what I was expecting. Also, the delivery date was spot on!
Anamaria C.

Australia
09/12/2022
Fantastic collar
The collar arrived quickly and was well packed. I've never seen such a sturdy dog collar before, I anticipate Dudley will be wearing it for years and years. Colours are bright and cheerful.
Janice M.

Australia
07/12/2022
Pilbara Nightfall Paracord Collar
Our 2nd beautiful Native Collars collar for our 2nd beautiful Hingatan Vizsla!
Tanis B.

Australia