Customer Reviews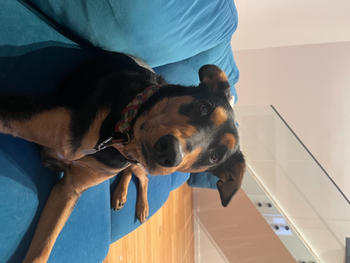 05/01/2022
Not very secure… fell off within two days
I thought these were a brilliant idea, and looked a lot nicer than my previous tag attachment solution (cable tie, don't judge me). When it arrived I instantly noticed it was quite a bit bigger than I expected. The clip has no way to be secured, which I was a little worried about. Well, it only lasted two days before it fell off, with tag and clip never to be found again. These are probably great if your dog isn't very active and/or doesn't play with other dogs.
Catherine W.

Australia
05/02/2022
Sturdy!
We have been using the antique brass clip for quite some time now and it's been such a handy thing to get! I can easily clip our tag from collar to harness and back.
Anonymos

Australia
11/06/2021
Such a handy product!!! My girl has a few tags that we like to use on rotation and the tag clip makes it so easy to change them!!
Charli B.

Australia
07/18/2021
So practical
No longer do I have to wrestle with her tags every time I want to switch collars
Anonymous

Australia
07/01/2021
great. love the gunmetal.
so easy, especially when multiple Collars or harness are in use.
Nicole T.

Australia