Paracord Lightweight Lead & Collar Bundle Set
1)Pick your size

2)Pick your favourite collar
3)Let us know which lead collar you are after before checking out
PICK ANY LEAD COLOUR YOU LIKE FROM OUR RANGE (please have a look at the photos on the left to see which colours are available) 
IF YOU PICK EITHER A SINGLE COLOUR COLLAR OR CUSTOM COLLAR PLEASE LEAVE THE CHOSEN COLOUR(S) IN THE COMMENTS BEFORE CHECKING OUT
More info about our custom collar:
THIS COLLAR CONSISTS OF 5 COLOURS. PLEASE PICK 1, 3 OR 5 COLOURS. IF PICKING 3 PLEASE LET US KNOW WHICH TWO COLOURS SHOULD BE DOUBLED. THANK YOU :)
Features:
🌿Easy to clean
🌿Waterproof
🌿size adjustable 
🌿ADVENTURE READY!
All our of our high quality canine products are handmade in Western Australia by us.
More about the materials:

BioThane is a polyester webbing with coating that makes it more durable, waterproof, easy to clean and weldable. 
Parachute cord (also paracord) is a lightweight nylon kern-mantled rope originally used in the military. The braided sheath is usually made up of 32 interwoven strands, giving it a smooth texture.
Hardware will be in Antique Brass.
Welcome to the Native Collar Family. 🐺 
---
We Also Recommend
Customer Reviews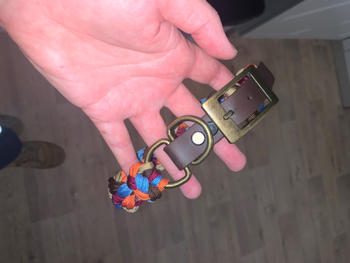 10/22/2020
Uluru Paracord Collar and lead
This is one of my favourite things that I've ever bought. They are such beautiful collars and made with real quality. Can't recommend enough.
Jessica B.
Australia
12/16/2020
Love it
I love the collar, maybe a little bit heavier than I expected. I also thought the lead would be the 5 colours I had chosen, but was only 2. Would
Kim M.
Australia
11/22/2020
Custom lead and collar set
I ordered a large collar, medium collar and lead. I chose to customise my colours. I would've liked if there was a way to see the colours together, prior to ordering. I ended up changing the colour of my lead as the colour was lighter then I expected it to be. Thankfully, the native collar's team were understanding and changed the colour for me, without an additional cost. The collars are every bit as beautiful in real life. Great quality workmanship. Though, I will have to send my lead back as it has come undone in a section but again, the team are happy to rectify this. The lead is great, if your dog know how's to walk on one. However, it doubles great as an extension lead, which is what I've use it for since my dog is still learning to walk on lead.
Geraldine T.
Australia