'Call my mum' - Dog Tag
'Call my mum/dad' - Metal Dog Tag

Round or Hexagon Dog Tag in Nickel Silver and Brass - 1 1/4"
The front of our 'Call my' Metal dog tags feature two variations. The back of the tag includes your phone number(s). 
Each tag is uniquely hand crafted by us in Perth, Australia and will include your dogs name as well as your phone number at the back of each tag. Each tag comes with two stainless steel split rings to attach to your pet's collar.

Because our tags are handmade, no two pieces will be the exact same. Our tags are of high quality and not flimsy. 
Customer Reviews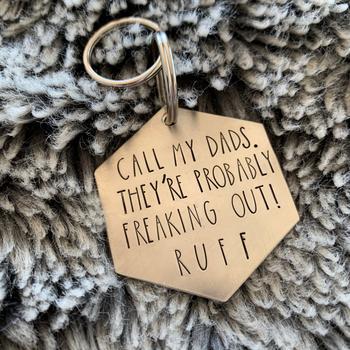 03/29/2021
Love. Love. Love.
The instant I saw this in my Insta feed, I had to have it. Ordered it straight away and it arrived within days (I live in Perth where they are made). It's exactly as it looks in the photos and really good quality. We pick up our new pup this Friday and I can't wait to see him wearing it proudly.
Anonymous

Australia
06/01/2022
Excellent product!
High quality, nice big tag!
Hayley B.

Australia
12/29/2021
Incredible!
So beautiful and the best quality! We love it, thank you!
Anonymous

Australia
09/13/2021
Feedback
I really loved the idea, shape and text used. I think different options in lay out could be an option Ie owners name next to the number. Thank you for the tag.
Rhiannan C.

Australia
08/18/2021
Love it!
So so cute and great quality! A quirky twist on a regular name tag.
Emily R.

Australia