Slip Lead
Welcome to our SLIP LEADS! The Slip Leads are a leash and collar in one. They are slim and light weight and easy to slip on and off your dog's neck and make handling convenient for walking and training. 
Features:
🌿 1 meter (if you prefer a different length, please reach out to us)
🌿 Easy to clean
🌿 Waterproof
🌿 Easy Slip on for easy handling 
All our of our high quality canine products are handmade in Western Australia by us.
IMPORTANT
Slip Leads are safe and escape proof. However, please note if your dog pulls the slip collar will continuously tighten around your dog's neck. Constant pulling will cause serious harm to your dog and we do not endorse such inappropriate use. We strongly advise you to add a stopper to prevent this from happening.
If you have a dog that pulls and is likely to back out of a collar, our 'River' Collars might be a better option for you.
You can find them here.
More about the materials:
Parachute cord (also paracord) is a lightweight nylon kern-mantled rope originally used in the military. The braided sheath is usually made up of 32 interwoven strands, giving it a smooth texture.
Welcome to the Native Collar Family. 🐺
*Products may slightly vary as every piece is individually handmade.
Customer Reviews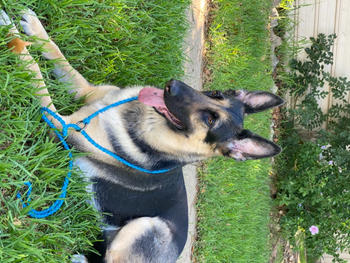 02/26/2021
Amazing!
This is the perfect lead. Light, well made and great looking.
Christine B.

Australia
07/22/2021
Slip lead
Very well made, slip leads are amazing
Anonymous

Australia
07/19/2021
No fuss slip lead
Very sleek and super convenient to slip on the dog.A perfect solution if your dog doesn't wear collars 24/7
Bethany I.

Australia
06/01/2021
Slip lead
Beautiful lead. Soft but strong. I am able to put it in my pocket when my dog runs free, but can quickly get it out if needed. The colour suits my dog well.
Anonymous

Australia
05/01/2021
So easy to use
I purchased two slip leads, one for each dog. A great/lead and collar for walking on bush tracks on our property when needed to be on lead.
Anonymous

Australia