Martingale/Slip Collar with Stop 'River' Paracord Collar - Your own colours
Slip Collar with a Stop -
CHOOSE THIS OPTION TO RECEIVE YOUR OWN UNIQUE COLLAR!
THIS COLLAR CONSISTS OF 5 COLOURS. PLEASE PICK 1, 3 OR 5 COLOURS. IF PICKING 3 PLEASE LET US KNOW WHICH TWO COLOURS SHOULD BE DOUBLED. THANK YOU :)
Open your door to the world of adventure. 🏕️
Our 'River' Paracord Series Collars are made from vegan materials only - Paracord and a Biothane adapter.
This sturdy collar comes in different colour variations to ensure that it will pop in contrast to your dogs coat!

Features:
🌿Easy to clean
🌿Waterproof
🌿Slips effortlessly over your dogs head 
🌿ADVENTURE READY!
All our of our high quality canine products are handmade in Western Australia by us.
More about the materials:

BioThane is a polyester webbing with coating that makes it more durable, waterproof, easy to clean and weldable. 
Parachute cord (also paracord) is a lightweight nylon kern-mantled rope originally used in the military. The braided sheath is usually made up of 32 interwoven strands, giving it a smooth texture.
Welcome to the Native Collar Family. 🐺 
Customer Reviews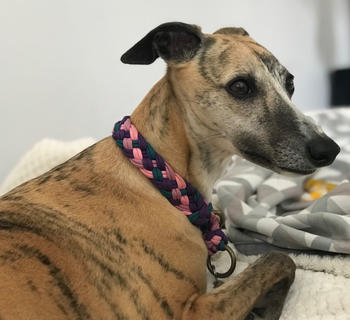 12/20/2020
Eye catching and functional
This collar is fantastic to use, I love the addition of the stopper which prevents over tightening. The colour combinations are endless and I was able to choose colours that I felt really suited my dog. I've had lots of compliments on the collar already and Tully seems very comfortable when wearing it! Perfect for training purposes or sighthounds (like mine) that can slip out of standard collars. Definitely a favourite! Maddy and Tully the Whippet.
Maddy M.

Australia
02/20/2021
River collar (limited slip)
Stunning collar with rock solid construction. My custom colour combo came out gorgeous and the brass hardware give it a wonderful finish. Sizing was also perfect and fits my dog like a glove, the limited slip makes it the perfect grab and go collar Thank you was the rad work
Bethany I.

Australia