Slip Collar
Open your door to the world of adventure. 🏕️
Our Slip Collars just dropped! The Slip Collars are a perfect match and addition to our paracord leashes. They are slim and light weight and easy to slip on and off your dog's neck.
IMPORTANT!
Please leave the measurements in the comments for us before checking out.
How to measure your dog:
Features:
🌿Easy to clean
🌿Waterproof
🌿Can be used as a collar or as a necklace combined with your harness
🌿ADVENTURE READY!
All our of our high quality canine products are handmade in Western Australia by us.
IMPORTANT
Slip collars are safe and escape proof. However, please note if your dog pulls the slip collar will continuously tighten around your dog's neck. Constant pulling will cause serious harm to your dog and we do not endorse such inappropriate use. We strongly advise you to clip the leash to both O-Rings to prevent this from happening.
If you have a dog that pulls and is likely to back out of a collar, our 'River' Collars might be a better option for you.
You can find them here.
More about the materials:
Parachute cord (also paracord) is a lightweight nylon kern-mantled rope originally used in the military. The braided sheath is usually made up of 32 interwoven strands, giving it a smooth texture.
Welcome to the Native Collar Family. 🐺
*Products may slightly vary as every piece is individually handmade.
---
We Also Recommend
Customer Reviews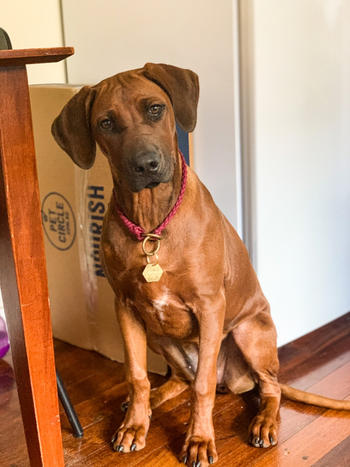 10/08/2020
Perfect for everyday
We bought this so we could have an easy slip on and off collar for every day wear. It does that perfectly and to top it off it looks stylish on her :)
Audrey S.
Australia
11/22/2020
Perfect
I am so happy with my slip collars. My dogs have longer coats, and I was finding a lot of other collars would lead to matting. These slip collars are easy to put on and take off and the colours are so vivid! Absolutely love them and so do my two dogs.
KATHRYN K.
Australia
10/01/2020
Perfect subtle collar!
I have been searching the internet high and low for a minimalistic but beautiful collar for my long haired shepherd. Any collar I have previously purchased has been hidden by his fur anyway, so I was looking for something that wasn't so big that it would press down and cause knots in his mane, and just something to hold his ID tags, and I finally found it! This slip collar is perfect and beautifully made. It was made and shipped in great time and I am super happy with my purchase!
Rebecca D.
Australia
07/29/2020
I absolutely love these slip collars!
I wanted something light and dainty for my two Cattle dogs to wear with their ID tags, something super strong that can withstand all their crazy adventures. These slip collars are PERFECT! they can withstand many hours spent at the beach or hiking in the hills and still look brand new! I also love that they provide extra safety if out on walks, no reversing out of collars with these things on! I love them so much I that now own 4 and feel as though I might need A few more colours for their collection.
Jaime M.
Australia