Multi-Functional Leash Light-weight
Open your door to the world of adventure. 🏕️
Our Multi-Functional Leads just dropped! As our collars, they are made from Paracord!
This sturdy lash comes in different colour variations to match your Native Collar!
Features:
🌿1.8 meter length
🌿Clip two dogs simultaneously
🌿Handsfree when off lead
(Simply clip both snap hooks together and wear it cross-body over your shoulder)
🌿Adjustable Length
🌿Easy to clean
🌿Waterproof
🌿ADVENTURE READY!
All our of our high quality canine products are handmade in Western Australia by us.
The Lead can be single colour or two colour only!
More about the materials:
Parachute cord (also paracord) is a lightweight nylon kern-mantled rope originally used in the military. The braided sheath is usually made up of 32 interwoven strands, giving it a smooth texture.
Welcome to the Native Collar Family. 🐺
*Products may slightly vary as every piece is individually handmade. 
---
We Also Recommend
Customer Reviews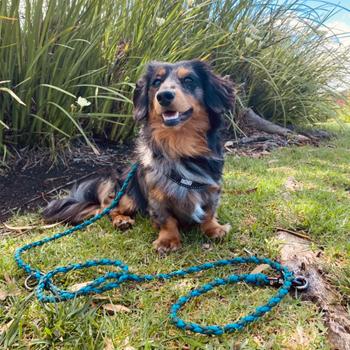 01/30/2021
Literally the BEST!
We love Julka and Lynds for custom making this item for us. Ever since we got Leo we've wanted one of their braided collars, but they were just a little bit too thick for Leo's little neck. They hence decided to customise the design, with smaller hardware and smaller braiding for it to fit him perfectly and we're in LOVE! Can't recommend your quality and kindness enough.
KB
Kate B.

Australia
12/27/2020
Love it!!
Absolutely love this lead!! I use it for my rottie and it is so easy and versatile. The colour is so vibrant and colourful. Highly recommend!
Chloe M.

Australia
12/27/2020
New lead and collar
Furgus loves his new collar and lead and he's looking very cool as well. I love the Pilbara colours ❤️
Hrlen C.

Australia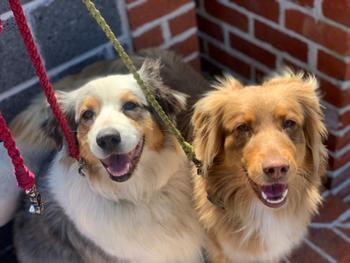 10/16/2020
GOOD FUNCTIONAL LEAD AND SUPER GORGEOUS!
I really love this lead! Perfect for our smaller shepherd that doesn't pull as much - the colour is perfect! And the location of loops and clips is so well thought out! Definitely will be buying another colour!
Jordan R.

Australia
02/20/2021
Navy Multi leash
Super thin and lightweight while also being very durable, perfect for when I need a lighter weight leash for my little dog. Also super stylish and gorgeously made, an awesome lead for being a bit fancier without compromising practicality.
Bethany I.

Australia