Murray Paracord Collar
Open your door to the world of adventure. 🏕️
Our 'River' Paracord Series Collars are made from vegan materials only - Paracord and a Biothane adapter.
This sturdy collar comes in different colour variations to ensure that it will pop in contrast to your dogs coat!

Features:
🌿Easy to clean
🌿Waterproof
🌿size adjustable (for dogs that are still growing)
🌿ADVENTURE READY!
All our of our high quality canine products are handmade in Western Australia by us.
More about the materials:

BioThane is a polyester webbing with coating that makes it more durable, waterproof, easy to clean and weldable. 
Parachute cord (also paracord) is a lightweight nylon kern-mantled rope originally used in the military. The braided sheath is usually made up of 32 interwoven strands, giving it a smooth texture.
Welcome to the Native Collar Family. 🐺
Not the right size? Please kindly send us a message at nativecollars@gmail.com.
After a Custom Colour Combination?
*Products may slightly vary as every piece is individually handmade.
Customer Reviews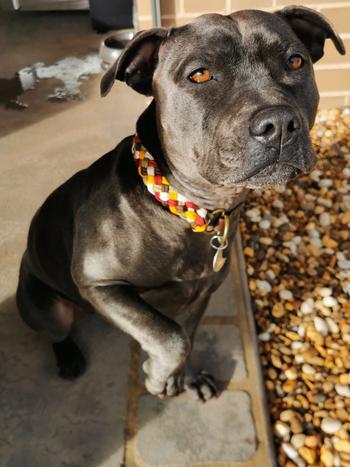 08/06/2021
Love this collar!!
Colorful and very good quality. Lexie is an active staffy... She love it!!
Lexie

Australia
04/01/2021
Gorgeous and comfortable for Puppy
Fantastic customer service and the collar doesn't bother our 6 month old English Staffy. Feels high quality and easy to keep looking fresh and clean!
Kate P.

Australia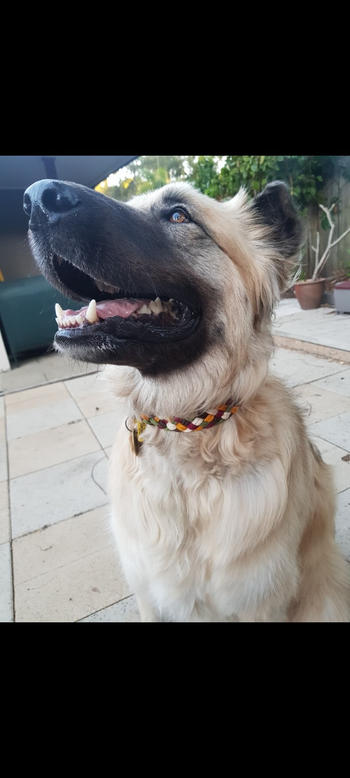 01/07/2021
Stunning, Durable, Perfect
I ordered this pretty much at their initial release, and the collar has maintained its beauty. I have a Malamute mix, so needed something that could keep up with his swimming in the ocean, whilst not causing too much matting. I have only rinsed it once since owning it, and that was because I wanted to. All the hardware is perfect, even after so many months, and I am beyond thrilled. If I had a bigger bank account, I would be buying them all!
Emily D.

Australia
10/06/2020
Our favourite
This is our favourite collar to use as it suits our puppy so well, is easy to clean (a soapy water hand wash and hang to dry), and durable!
Audrey S.

Australia
12/06/2021
Practical and gorgeous
I have a Samoyed so unfortunately any collar he wears is totally drowned by his fur but it's so beautiful and so much more practical to have over his last collar. Very easy to clean and doesn't carry a smell even if he's been frolicking in the mud (which he likes to do). Really nice quality and will definitely be recommending to friends with dogs. I also loved the packaging it came in :)
Isabelle

Australia